Surviving the Storm: 10 Simple Things Black People Need to Have Readily Available Right Now
So I got a letter from a reader asking me what should she buy RIGHT NOW to prepare for the up and coming storm. For those of you that are wondering the same things, here's a short, compact but efficient list. Most items are available in stores now or can be ordered through Ebay or Amazon. If you're on a budget, try flea markets, Craigslist and yard sales.
A. A really good tent that can sleep 4-6 people (don't skimp on price, get the good kind) and a sleeping bag that has removable thinsulate lining.
Why?
For those that live in colder climates, when they shut off your heat to spite you, you will freeze to death. When we had the blizzard this past winter, NYC was divided. Upper class whites had their power on the next day, street cleanings were back in full force and farmer's markets were OPEN for business. My buddy told me that he saw whites walking their dogs sipping gourmet coffee like it was any other day. In the lower income neighbourhoods, blacks had trash on the streets for 3 weeks with ZERO electricity in their apartments. My friend, who lives in Queens, told me she slept in her winter coat, scarf, hat and mittens to keep warm. A good tent will act as a barrier for the cold and the sleeping bag will keep you warm. Don't forget long underwear.
B. A kerosene cook stove.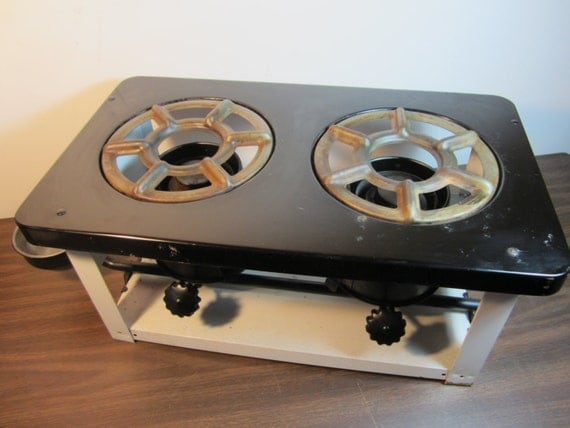 Why do I keep on bringing this up?
Because it saved our lives during Hurricane Sandy. Cooking outside on the grill will draw ATTENTION to yourselves when discretion is needed. Remember, if you are hungry and looking for food, others will be too. No need to alert them that you have supplies on hand. I cooked full meals in my own kitchen on this thing and once filled with kerosene, it lasts for up to 2 weeks with HEAVY cooking! Plus you can boil your water safely to kill bacteria. Don't forget to buy a safe, portable kerosene can/ drum/ holder, preferably one with a spout.
C. Water, water, and more water.
Why?
Dehydration will KILL you. You need 1 gallon, per person, per day and that DOES NOT include bathing and cooking. Store your water in here:
And don't forget the siphon pump.
D. A gun. And bullets. Lots of them. And you must learn how to use it.
This is a .22 Ruger. It's compact, light and easily hidden. For those that aren't gun savvy, this is a nice "starter" gun. Ladies, this is up your alley.
E. Plastic forks, knives, spoons and paper napkins. LOTS OF THEM.
Why?
You DO NOT want to waste your precious water on washing dishes. Restaurant Supply Stores have large quantities, up to 5,000! for a great deal. Or…..you can take a few extra forks from your restaurant of choice and SLOWLY increase your supply for FREE.
F. A porta potty and lots of garbage bags.
60.00 on Ebay!
Why?
Solid Waste causes illness and you'll need a place to go…for every member of your household. Don't forget the kitty litter, baking soda and sawdust. Up here, I use sawdust and empty it out in a deep hole away from my house. Leaves and dried twigs are thrown in and in about one year, Nature breaks it down completely and we have awesome fertilizer.
P.S. This is a pop up cabana:
For those that live in the country, this can be your porta potty outhouse/ shower-bathing area. This sells for around 15.00 on Ebay. Or…you can win a "bid" for as cheap as 5.00!!
G. Iodine.
Not only great for purifying water, it's a MUST have for cuts and bruises. A few drops per gallon of boiled water and it's safe for drinking.
H. Solar Powered Weather Radio:
OR… a HAM Radio
Why?
You'll need some way of keeping alert to what's happening. Hurricane Sandy taught me how important it is to know if services are running, if the eye of the storm is near and who's out there. Don't skimp on price. Get the GOOD model.
I. Personal Items:
Let's face it.
Cleanliness is gonna be a top priority when things go bad. You will need to find some way to keep clean, as much as possible, to keep the spread of bacteria at a minimum. Ladies….stock up now on your items. Men, if you also need, ahem, personal items, get them asap. Buy in bulk to save money.
J. Pasta, Rice, Peanut Butter, Crackers and Beans:
Shoprite and Foodtown ALWAYS have back to school and holiday sales. You can get cans of beans starting at .50 per can. Pasta by the tub, 30 lbs or more, is cheaper than buying by the box and peanut butter can be kept for up to 1 year in a cool, dry place. Rice is a MUST. Cheap, easy to cook and filling, it's a life saver and can be put into soups, salads or just eaten by itself.
White rice is cheaper than brown rice but wild rice is best and the most filling. A tiny 1/2 cup of wild rice will fill you up like a full meal. When we were growing up, we boiled our brown rice in coconut milk, nutmeg and vanilla and made homemade rice pudding for snacks and dessert.
Rice and beans are called "the poor man's food" but it was an essential part of our almost vegetarian diet. I highly recommend stocking up on these staple "survival" foods.
Don't wait, Black Family, for things to go bad.
Stock up now.